Entertainment
Anjana Singh Celebrates Holi With Her Daughter And His Ex-Husband Yash Kumarr Celebrate Holi With Second Wife Nidhi Jha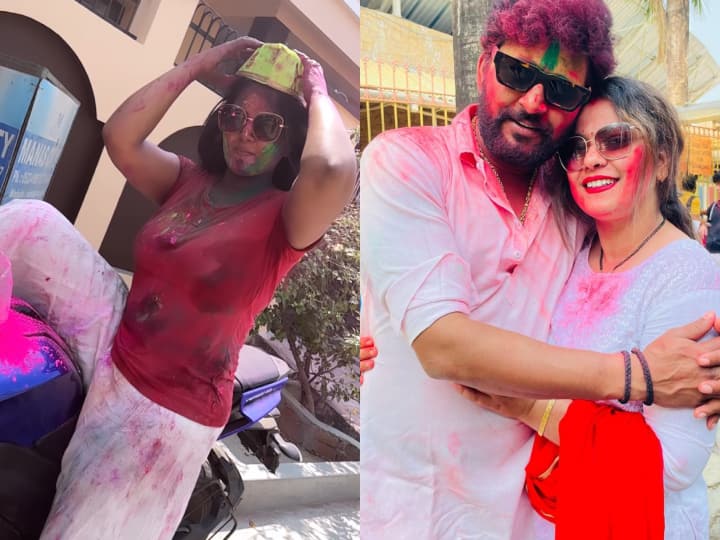 Yash kumarr Nidhi Jha And Anjana Singh Holi celebration: On March 8, the festival of Holi is celebrated with great pomp. From Bollywood to Bhojpuri stars were seen immersed in the celebration of Holi. This was Yash Kumar's first Holi after his second marriage to Nidhi Jha, whereas Anjana Singh celebrated this Holi with her daughter. Today, in this news, we have brought pictures of Holi celebration of Anjana Singh as well as special Holi video of Yash Kumar and his second wife Nidhi Jha. Immersed in the celebration of Holi, these stars have been seen having a lot of fun.
Anjana Singh has shared a fun Holi video on her social media account in which she is seen showing off her tashan while sitting on a bike. The actress can be seen dressed in the colors of Holi.


Anjana Singh had not only shared Holi pictures and videos of her daughter Aditi Singh on her account. Daughter Aditi has also celebrated Holi with great fanfare with her mother away from her father.


On one hand, Anjana Singh and her daughter are seen celebrating Holi together. On the other hand, her ex-husband was seen celebrating the first Holi after marriage with his new bride, Nidhi Jha. Nidhi Jha has shared funny pictures and videos of her first Holi with the audience, in which husband and wife are seen getting romantic. Nidhi Jha can be seen touching the feet of Yash Kumar in the video. Both of them are seen celebrating their Holi with great pomp by applying color to each other.


Sharing beautiful pictures of Holi, Yash Kumar wrote that – celebrated this year's beautiful Holi with wife. Happy Holi to all of you from Yash Kumar and Nidhi Mishra. May you all be healthy and happy forever..


read this also: Satish Kaushik Family: Satish Kaushik was broken by son's death, became father again at the age of 56