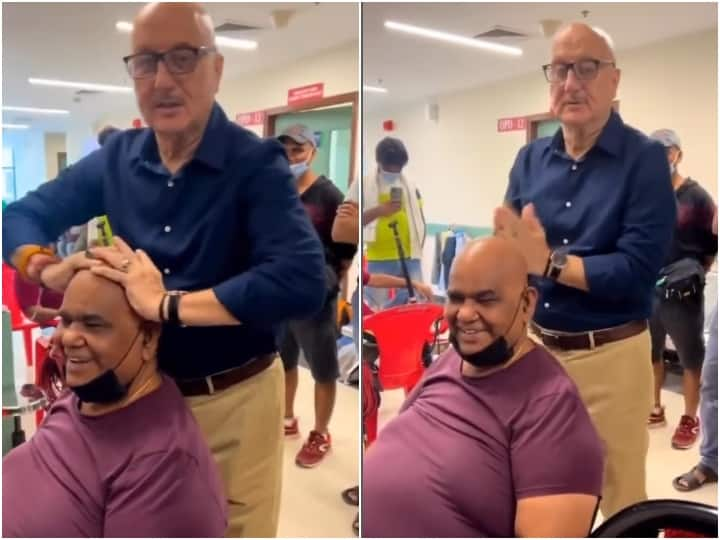 Anupam Kher Shared Satish Kaushik Video: Satish Kaushik, one of the powerful actors of Bollywood, died at the age of 66 due to a heart attack. The actor was merged into the five elements on the previous day. On the other hand, due to the death of Satish Kaushik, his best friend Anupam Kher is completely broken. They are very shocked by Kaushik's sudden goodbye. Anupam is remembering his friend Satish by sharing his pictures and videos on social media. Now Anupam has shared a throwback video of himself with Satish in which he is seen champing the actor. Anupam has also written an emotional caption with this video.
Anupam shared throwback video remembering Satish
Veteran actor Anupam Kher has shared a video on social media in memory of his close friend, actor-filmmaker Satish Kaushik. In the video, Anupam is seen massaging Satish's head and joking with him. In the video, Anupam says that to please the producer, see what has to be done. At the same time, Satish is also seen saying wow while enjoying Anupam's champi.
Anupam wrote an emotional caption
After this, Satish says that just give extra dates like this. Hearing this, Anupam says no for other films, but Satish says no for this. After this, Satish tells Anupam that Kher sahab, you also do very good massage, apart from acting, you also do this work very well. Then Satish says that you have removed all the tension of my production. Thank you dear thank you so much. Anupam wrote the caption in Hindi with this video, "Death is the end of life… not of relationships."


Anupam Kher was the first to give the news of Satish's death
Please tell that on March 7, Satish Kaushik had attended the Holi party of Shabana Azmi and Javed Akhtar in Mumbai. After the news of his sudden demise broke, his pictures and videos from the party went viral. While he was in Delhi to attend the Holi party of a close friend, during this time his health deteriorated. Anupam was the first to share the news of his close friend's death on social media. Kher shared a picture of himself with Satish and tweeted, "Actor Satish Kaushik passed away."
The entire industry is shocked by the death of Satish Kausish
On the other hand, the entire Bollywood industry is shocked by the sudden demise of Satish Kaushik. Many celebs including lyricist-poet Javed Akhtar and producer Boney Kapoor had also reached the actor's house to express condolences to the bereaved family members. Farhan Akhtar, Shilpa Shetty, Pankaj Tripathi, Ranbir Kapoor, Sanjay Kapoor, Aruna Irani, Anu Malik, Abhishek Bachchan, Ishaan Khatter, David Dhawan, Rakhi Sawant were among the celebs seen at the late actor's residence.
Satish Kaushik made a mark with his strong performance
A versatile actor, writer, director and filmmaker, Satish Kaushik had carved a niche for himself in the Indian film industry with his powerful performances and unique sense of humour. He did his brilliant work in popular films like 'Mr India', 'Saajan Chale Sasural' and 'Judai' in the 1980s and 1990s. During these years, Satish established himself as one of the most sought-after character actors in Bollywood. He often played a supporting role which was an important part of the film's plot. He was also known for his work as a writer and director, having directed films like 'Roop Ki Rani Aur Choron Ka Raja' and 'Hum Aapke Dil Mein Rehte Hain'.
read this also:-TJMM Box Office: 'Tu Jhoothi ​​Main Makkar' is making a splash at the box office, the second day's earnings are also excellent