Entertainment
Arjun Kapoor Kangana Ranaut Juhi Chawla Kajol Shares Wishes On The Occasion Of International Women's Day 2023 | 'You can't be a hero without them'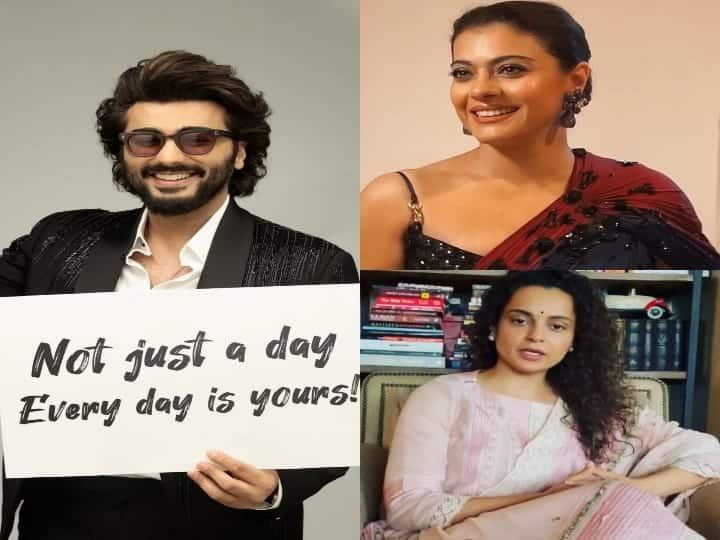 International Women's Day 2023: On the occasion of International Women's Day, famous Bollywood stars have conveyed the message to the fans through their social media. Along with congratulating all the women, she shared the post. Which includes Kajol and Juhi Chawla to famous actor Arjun Kapoor. Tell that these Bollywood actors and actresses have described the lives of women as a source of inspiration.
Kajol shared the quotes of celebrities
Ajay Devgan's wife and famous actress Kajol has shared a story from her Instagram account. Which shared quotes based on many women from GD Anderson, Maya Angelou, Malala Yousafzai and Hillary Clinton. Not only this, let us tell you that the actress has also posted a picture on which she has written the caption, "Here to women building women up.. That's my pilot! Captain Ashna Acharya".


Kangana Ranaut praised women by sharing the video
Talking about Kangana Ranaut, let us tell you that she is considered one of the well-known actresses of Bollywood. Not only this, she is also known for her impeccable style. But in the meantime, she shared a video from her Twitter and Instagram handle in which she praises all the women living in the country. Who selflessly works for her family and society as well as for the country.


Arjun Kapoor shared the post from where it is not 1 day, every day is yours
Arjun Kapoor is also called the handsome hunk of Bollywood. Not only this, he is also in headlines for his personal life. But in the meantime, the actor shared a picture on which it was written that not only 1 day but every day belongs to women only. While sharing the post, the actor also wished Happy Women's Day in the caption.


Juhi Chawla told women the shield of men
Juhi Chawla is considered one of the well-known personalities of her time and let us tell you that she has recently shared a story on her Instagram ID in which a beautiful message is written. It is written in the actress story that you will not be able to become a hero without her. Best wishes to all of you on International Women's Day.