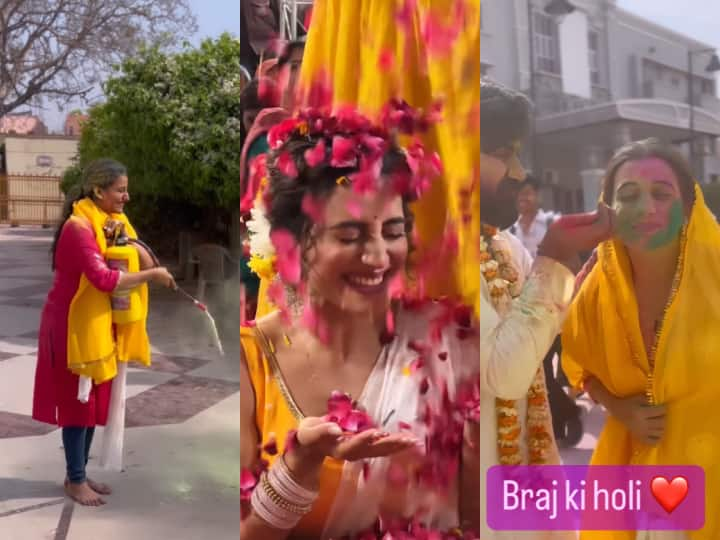 Akshara Singh Celebrates Holi In Vrindavan: This year's Holi has been very special. From Bollywood to Bhojpuri stars have celebrated the festival of Holi with pomp among the audience. Today we have brought beautiful pictures and videos of Bhojpuri actress Akshara Singh's Holi for you, after seeing which will definitely make your day. These pictures and videos of Akshara Singh's Holi are looking great to watch. Akshara Singh not only played Holi of flowers this Holi, but at the same time, the actress went to Banke Bihari's temple and also played a lot of Holi with Rang Gulal. The actress has been seen playing Holi in the streets of Vrindavan with a big cylinder in her hand.
Akshara Singh celebrated Holi in Vrindavan
Akshara Singh shared Holi videos one after the other on her Instagram and wished the audience a very Happy Holi. See in the video how the actress is seen playing with Rang Gulal while chanting the name of God in Vrindavan. While sharing the video, Akshara Singh wrote in the caption, Holi of Braj. Akshara Singh has been seen celebrating Holi of Braj in a yellow chola with sandalwood on her forehead and Radhe-Radhe written on her cheeks.


With this, Akshara Singh has shared another video in which flowers are seen raining on her. Sharing this video on her Instagram, Akshara Singh said that – Feel free to smile without any reason… Don't get wrapped up in thinking that you are a woman. Every girl is a lioness, it is just a matter of time to recognize.


These pictures of Akshara Singh's Holi seem to be going viral. The actress is laughing out loud in these pictures and videos. Akshara Singh is feeling fortunate after getting this opportunity to celebrate Holi in the streets of Vrindavan.


Read this also- Satish Kaushik Death: Wave of mourning in Bollywood due to the death of Satish Kaushik, celebs paid tribute from Kangana Ranaut to Anupam Kher