Entertainment
Bhojpuri Actress Yamini Singh Shares Her Shooting Experience With Khesari Lal Yadav On The Sets Of Godfather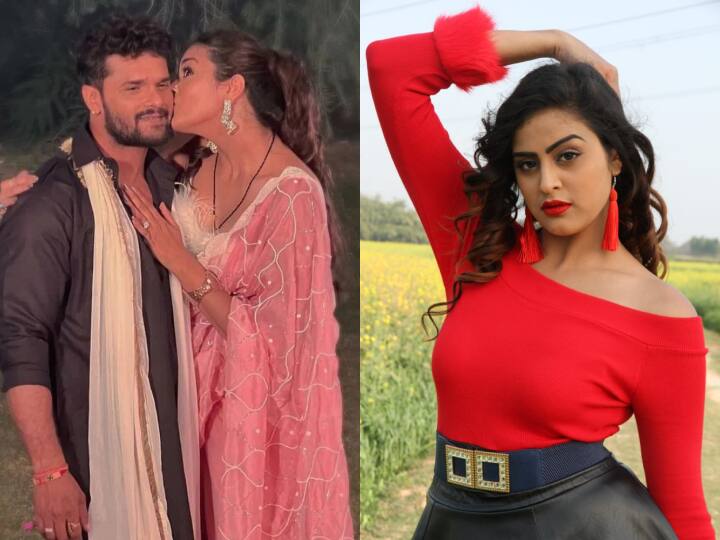 Yamini Singh Shares Her Godfather Shooting Experience: These days Yamini Singh is seen in every other film and songs with Khesari Lal Yadav. While entertaining the fans, the brilliant pair of both is seen making noise in Bhojpuri cinema. Khesari Lal Yadav and Yamini Singh will soon be seen in the film Godfather. Khesari Lal Yadav's film is going to be one of the high budget films of Bhojpuri cinema. In the interview given to Leharen, Yamini Singh praised Khesari Lal Yadav, but in the meantime, the actress also shared that due to Khesari Lal Yadav, there were many problems in the shooting. Yamini Singh has surprised the audience by telling the story of the shooting.
What did Yamini Singh say about Khesari Lal Yadav
You all know this very well that on hearing the name of Khesari Lal Yadav, his fans run after him, and as soon as people come to know that the shooting of Khesari Lal Yadav is taking place in his area, thousands of Crowds of people gather at the same place. Yamini Singh while telling the story of the highway and slum area, told how the shooting could not be done due to his massive fan following. When shooting was to be done on the highway, a crowd of people gathered there. And when it was the turn of the village, it became impossible to shoot there as well.


Yamini Singh told that you must have often heard that village sets are being made for Bollywood films, village sets are being made for South films, but this is the first time that a 7-day village has been used for the shooting of Bhojpuri films. set is made. Talking about her role, Yamini Singh told that she did not want anything, she got to do what she wanted to do in her career in Godfather. He said that after seeing this character, many Bhojpuri actresses will regret why they did not get to play this character.
Also Read – Holi 2023: From Nia Sharma to Devoleena Bhattacharjee, TV stars celebrated Holika Dahan like this, see glimpses