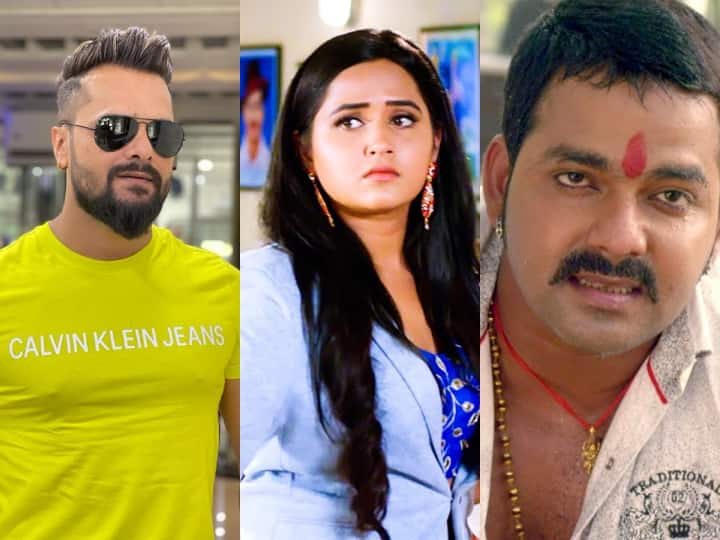 Bhojpuri Romantic Jodi Breakup: Millions of people get pulled towards the dazzling world, but some faces are such that they are seen climbing on the pinnacle of success. On reaching the pinnacle of success through struggle, many people collide in the way of these stars. With some people, a life-long relationship is formed, then with someone, first love and then a scene of dispute is seen.
Today, in this news, we are going to talk about those romantic couples of Bhojpuri cinema, who after showing their romantic chemistry on the film screen, became sworn enemies of each other in real life. In real life, these people fell in love with each other, but the rift in the relationship ruined everything.
Kajal Raghwani and Khesari Lal Yadav
Kajal Raghavani and Khesari Lal Yadav used to be one of the most loveable couples of Bhojpuri cinema. But some time ago the news of tussle started coming between these two. Although Khesari Lal Yadav is married, but still his name was associated with Kajal Raghavani for years. But if media reports are to be believed, both of them have now parted ways and parted ways with each other.
Akshara Singh and Pawan Singh
Akshara Singh and Pawan Singh were once so madly in love with each other that they were seen together everywhere. But when Pawan Singh got married secretly, Akshara Singh's heart broke. The breakup of Akshara Singh and Pawan Singh was covered in the newspaper headlines. Akshara Singh also made many allegations against Pawan Singh. Today this romantic couple of Bhojpuri cinema have become sworn enemies of each other.
Nagma and Ravi Kishan
The names of Nagma and Ravi Kishan are also included in this list. Even after being married, Ravi Kishan loved Nagma very much. Ravi Kishan confessed about his relationship with Nagma in front of the whole world. But after going to Bigg Boss, Ravi Kishan realized how much he loves his wife. In such a situation, while breaking up with Nagma, he apologized to wife Preeti Kishan and made her his world.
Also Read – Selfiee Box Office Collection: 9th day collection of 'Selfie' is the worst! Akshay Kumar's film did just this much business