Entertainment
Ghum Hai Kisikey Pyaar Meiin Latest Updates People Trolled Virat Mother For Calling Sai As Dusri Aurat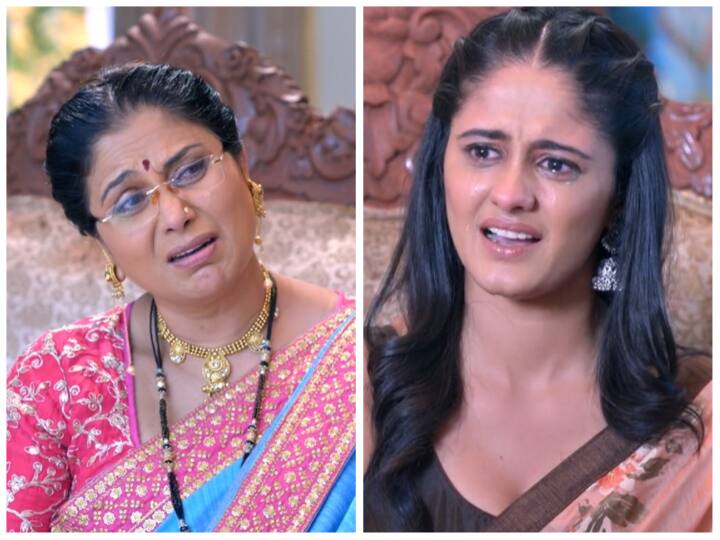 Ghum Hai Kisikey Pyaar Meiin Latest Updates: A lot of ruckus is going on these days in the TV serial 'Gum Hai Kisi Ke Pyaar Meiin'. Seeing the deteriorating mental condition of her son, Sai Chavan has come to the residence and is living in the outhouse. But due to the arrival of Sai, there has been an earthquake in Pakhi's life and she is seen fighting with Virat every day. Not only this, she is also spoiling her health due to all this and all this is not being seen by her mother-in-law i.e. Ashwini and in today's episode you will see that she is going to take the responsibility of convincing Sai.
people trolled
In Ghum Hai Kisikey Pyaar Meiin, today Ashwini herself will step into the outhouse to convince Sai to leave the house and she will say that when Sai and Virat got married, Pakhi was another woman. But today Sai is another woman in Virat's life and she should not come between Virat and his married life, but Sai is shocked to hear all this from her ex's mother-in-law and tells her that she is not here to disturb Virat's life. Rather, she has come to take her son from there. After this episode came out, now the fans are calling Ashwini bad and are also telling a lot of abuse on social media. Sai's fans are reminding Virat's eye that she is still his wife and it is Patralekhaa who is the other woman as Sai and Virat are not legally separated yet.
So called Aayi turning out to be worst than any vamp of itv shows😡😡😡#AyeshaSingh #SaiJoshi#Ayeshians#AyeshaSinghFans#GhumHaiKisikeyPyaarMeiin pic.twitter.com/dZruTW5ZdQ

— Vibs_0987 (@vibs_0987) March 1, 2023
#GhumHaiKisikeyPyaarMeiin phenomenal performance by Ayesha Watching such toxic show only for this supremely talented girl.Loved what she said to asswitch & SAI IS NOT DUSRI AURAT 😡.
"Apne ansh ko..apne kudh ka ansh ko dusron se wapas lena cheena nahi kehthe" #AyeshaSingh pic.twitter.com/Gj31wv5eCv

— deepali khadka (@KhadkaDeepali) March 1, 2023
Yet another mind boggling performance from our own #AyeshaSingh
Every-time you cry, I shed tears too- that's the Impact you have on us as an Artist 👏

You are UNSTOPPABLE ❤️🔥#GhumHaiKisikeyPyaarMeiin pic.twitter.com/M9Hu6FcLSa

— Naina_H (@NH_hope13) March 1, 2023

"Maine bhi toh tumhara itna saath diya hai na Sai" is that called a Help? What Ashwini did for Sai was in lieu of her own Greed, for her Son.

She supported Sai just Bcoz she was the only one to give backftting Answers to Bhawani 🤡#SaiJoshi #GhumHaiKisikeyPyaarMeiin pic.twitter.com/V4R3xsMZR3

♡ (@Analyst_Krishna) March 1, 2023
This woman should be sent to EXILE
She kept saying-
You are d 'OTHER WOMAN' and pls Don't break someone's heart & household for your happiness

WTH are all CN been doing since so many years? Breaking Sai's heart over n over again

She's WORSE than P 😡#GhumHaiKisiKeyPyaarMeiin pic.twitter.com/ALF6p6qo5R

— Naina_H (@NH_hope13) March 1, 2023
#GhumHaiKisikeyPyaarMeiin #AyeshaSingh 2psycho women of pride who think that stolen objects become your property. 1 is dumbhead blind supporter of the other woman who is a blatant dacoit who stole said family and is now claiming them as her own and crying victim. both useless women pic.twitter.com/OfSXLm4wDv

— deepali khadka (@KhadkaDeepali) March 1, 2023


Also read- Tehseen Poonawalla Baby: This ex-Bigg Boss contestant's house echoes, Google will have to hear the name of the child!