Entertainment
Ghum Hai Kisikey Pyaar Meiin Sai Breaks Down In Front Of Virat Fans Got Impressed With Her Skill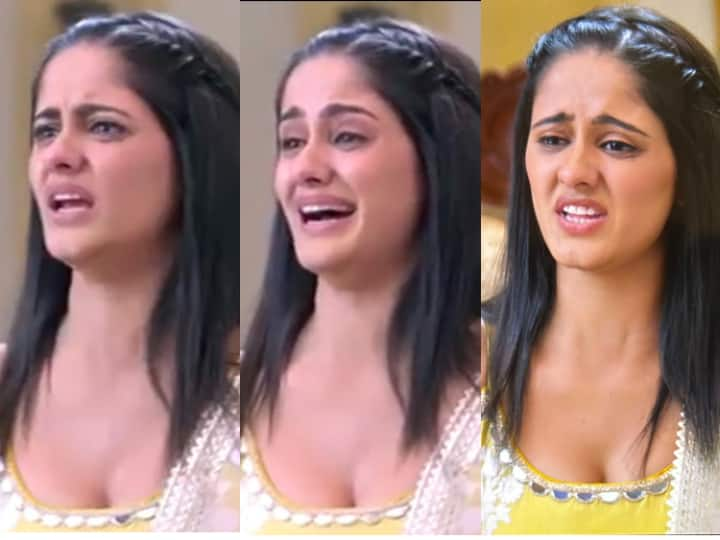 Ghum Hai Kisikey Pyaar Meiin Latest Updates: The story of Ayesha Singh, Neil Bhatt and Aishwarya Sharma starrer TV show 'Ghum Hai Kisi Ke Pyaar Meiin' (Ghum Hai Kisikey Pyaar Meiin) is currently focused on Vinayak, Virat and Sai. It seems that the makers are preparing to bring Sai's reality in front of Vinayak. In the previous episode, it was shown how Virat's eyes called Sai another woman and then later Pakhi threw the lunch given by Sai in the dustbin and said that it was thrown by Venu and Sai is also very hurt seeing this. She goes.
People praised Ayesha
In today's episode of Ghum Hai Kisikey Pyaar Meiin, Sai's emotional moment has come to the fore. He is first scolded by Ashwini Aai and later by Pakhi who assures him that Vinayak threw the food given by Sai in the dustbin, while Pakhi did so. After hearing all this, Sai becomes very emotional and starts fighting with Virat. Seeing Sai crying, once again the hearts of the fans are filled and they are once again praising actress Ayesha Singh, who plays the role of Sai. He has liked Sai's acting very much and he is getting a lot of accolades on social media.
"VIRAT PLS TUM MERI CHINTA MT KARO.. TUM MERI CHINTA KRNA BAND KRDOGA TOH MERI ZINDAGI KI SARI CHINTAYE APNE AAP KHATAM HO JAYEGI"

SAI 🔥🔥🔥🔥🔥#SaiJoshi #AyeshaSingh #GhumHaiKisikeyPyaarMeiin

— 👑👑👑 (@Pragya07807099) March 3, 2023


What did u do to remove the hatred from Vinu's mind
he knows it's P but does he do anything about it … naah
Glad she told about Asswini too
Why would I want to break your house 💥💥💥
This, she never wanted too & never will #AyeshaSingh #SaiJoshi #GhumHaiKisikeyPyaarMeiin pic.twitter.com/7BWNzOv4mS

— Naina✨ (@NainaAlex24) March 3, 2023
This was executed well…#AyeshaSingh #SaiJoshi #GhumHaiKisikeyPyaarMeiin pic.twitter.com/svDYgTDnc6

— Naina✨ (@NainaAlex24) March 3, 2023
Before someone else comes and blames me, you leave
Stop worrying about me, that itself will reduce my worries
(Sai had said something similar to J too)
Good she reminded him of what he said at the resort #AyeshaSingh #SaiJoshi #GhumHaiKisikeyPyaarMeiin pic.twitter.com/fVnZwElCA1

— Naina✨ (@NainaAlex24) March 3, 2023
I won't get tired of saying it- You are an Amazing Actor #AyeshaSingh
The cotton candy scene was so good today. u were super annoyed but at the same time hungry(had to eat too😋) u portrayed your feelings so well👏 couldn't take my eyes off d screen #GhumHaiKisikeyPyaarMeiin pic.twitter.com/xPPAorY5KZ

— Naina_H (@NH_hope13) March 3, 2023
First of all hats off to Ayesha for fabulous performance continuously. Being a non mother in the real life showing the pain of the mother onscreen is excellent. Criminal no words remain for her.If so called clowns do not wake up fast vinnu will gone case #GhumHaiKisikeyPyaarMeiin

— Mani_Kolluri (@ManiKolluri81) March 3, 2023
Today Ayesha nailed it like always!
The way she portrayed every Expression, Dialogues and Especially Emotional scene just Amazing 👏❤️#AyeshaSingh #SaiJoshi#GhumHaiKisikeyPyaarMeiin pic.twitter.com/OaW958M1Ru

— Nupur kaushik (@nupurkaushik02) March 3, 2023