Entertainment
Holi 2023 Silsila Film Amitabh Bachchan Rekha Rang Barse Song Story Know Here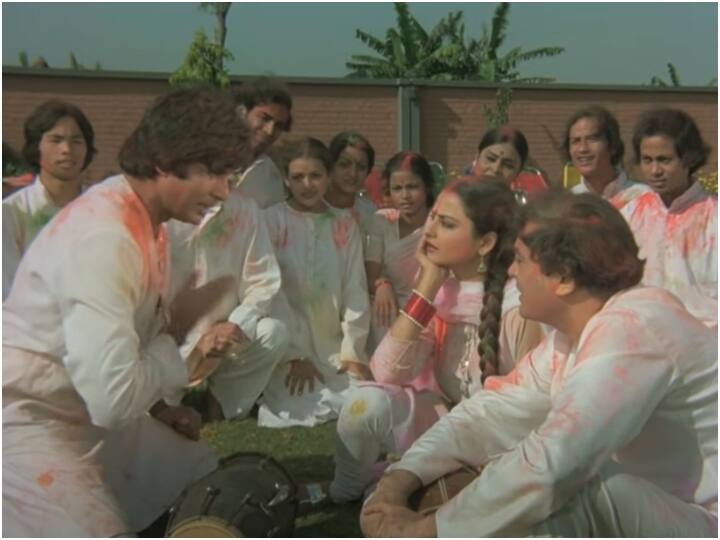 Rang Barse Song Story: The festival of Holi means the festival of singing and dancing with fun. Anyway, if Bollywood's fun-filled songs are not enjoyed on Holi, then where does the color get? Then 'Rang Barse Song' from the film 'Silsila', picturized on Amitabh Bachchan and Rekha, is an iconic song, without which hardly any Holi celebration is possible. But do you know how the song 'Range Basre' was composed. There is an interesting story behind this.
,colors rain, Song based on hymns
According to a report in The Times of India, composer Debjyoti Mishra told the story of the making of Rang Barse. Mishra had said, "In Tollygunge, where I used to live, there was a place where non-Bengali people used to gather to sing songs and celebrate Holi. His songs used to leave an impact on my mind. Debjyoti Mishra said that he was in college when he later heard the song 'Rang Barse Bheege Chunar Wali' and saw the picturization in Silsila.
He said, "I saw the film on a single screen in South Kolkata and liked what I saw. The song was a huge hit, but I knew it was based on a bhajan that people used to sing on Holi. Later, when the composer wanted to use a similar tune in Souvik Mitra's Karzner Kalom, he said that there were copyright issues.
,Colors showered The lyrics were by Harivansh Rai Bachchan
He further added, "It was only then that it was discovered that the song was based on a traditional hymn by Mira, a 15th-century poetess in Real. Even though the lyrics were by poet Harivansh Rai Bachchan and the song was composed by Shiv-Hari. Original Bhajan Rang Barse O Meera, Bhavan Mein Rang Barse / Kun e Meera Tero Mandir Chinayo, Kun Chinayo Tero Devro / Rang Barse O Meera Bhawan Me Rang Barse. The numbers in the film were changed to fit the script. But the hymn was popular among people from generation to generation. Debajyoti was given permission to use the tune and the composer said, "Till date, the tune is popular and I am also a big fan of it."
read this also:-Shatrughan Poonam Love Story: 'I was lost…' Shatrughan Sinha broke up with Poonam, the actor told the reason