Entertainment
Kartik Aaryan Plays Holi With Fans In US Dallas Watch Video Here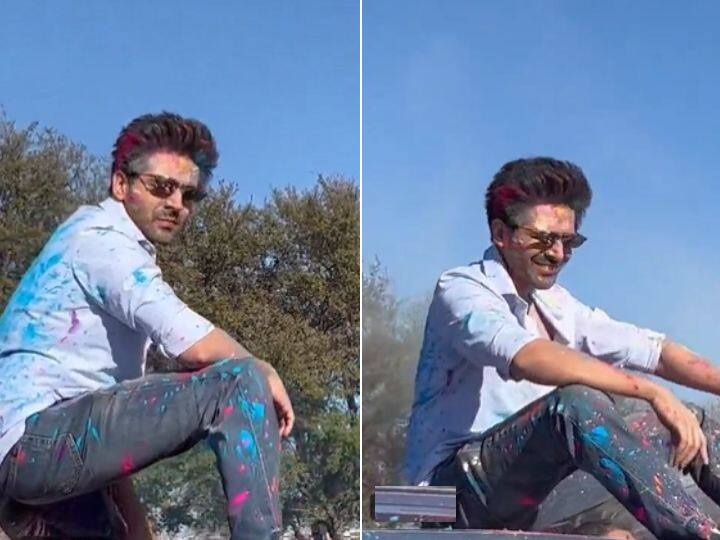 Kartik Aaryan Holi Video: Who does not know the famous actor of Hindi cinema, Karthik Aryan. Karthik Aryan, who entertains fans through his films, is one of the emerging artists of the industry. Although the recently released film 'Shehazada' by Kartik Aaryan could not show anything special at the box office. Meanwhile, a latest video of Karthik Aryan has surfaced. In this video, Karthik is seen playing Holi in Pardes.
Karthik Aryan played Holi abroad
On Sunday, Karthik Aryan shared a latest video on his official Instagram handle. In this video you can see that Karthik is seen playing Holi with his fans in Dallas, Texas city of America. Karthik Aryan has written in the caption of this video that- Feeling of my country in Pardes, unreal for the first time in US, many thanks for the unbelievable love. Thank you Dales, this Holi will always be close to my heart. In this way, Karthik has celebrated Holi with his fans abroad. Many videos of Karthik Aryan's Holi played in Dallas are becoming fiercely viral on social media. Fans are fiercely liking and commenting on these videos of Bhool Bhulaiyaa 2 star.


Holi celebration in Dallas 😍❤️🔥@TheAaryanKartik #KartikAaryan pic.twitter.com/vktgxQit5x
— s ❤️‍🩹 (@MrAaryansgirl) March 5, 2023
,
Karthik Aryan will be seen in these films
Pay attention to the work front of Kartik Aaryan, in the coming time, Kartik will be seen in the films 'Satya Ki Prem Katha, Aashiqui 3, Captain India and Bhool Bhulaiyaa 3'. It is known that recently, Karthik released the teaser of horror comedy 'Bhool Bhulaiyaa 3' and told that this film will be released in the year 2024 on Diwali. While Karthik Aryan's 'Satya Ki Prem Katha' will be released on June 29 this year.
Also read- Tunisha Sharma Suicide Case: Sheejan Khan released from jail in Tunisha Sharma suicide case, happiness was seen on the faces of the sisters who came to pick up their brother