Entertainment
Manoj Tiwari And Nirahua Holi Celebration Photos And Videos Are All Over The Internet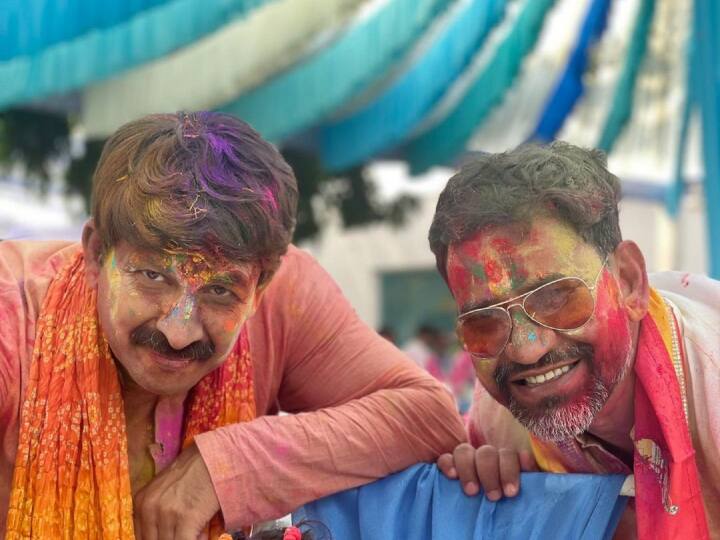 Manoj Tiwari And Nirahua Holi celebration Videos: For the past many days, Holi is being celebrated all over the country. From Bollywood to Bhojpuri city, the festival of Holi is celebrated with great pomp. Everyone is updating their Holi photos on social media. Meanwhile, the eyes of the fans also remained on their favorite stars. Fans want to see how their favorite artists have celebrated their festival. In such a situation, today we have brought pictures and videos of Holi celebrations of two big faces of Bhojpuri world and politics. Pictures and videos of Manoj Tiwari and Nirahua's Holi party are becoming very viral on the internet. Nirhua and Manoj Tiwari created a lot of noise while being included in the Holi event.


Photos of Manoj Tiwari and Nirhua's Holi party
Funny videos and photos of Holi events are constantly going viral. Manoj Tiwari has also included many fans in his Holi celebration by sharing many videos on his Instagram. Manoj Tiwari has shared 3 posts of Holi party. In the first post, he has shown a beautiful view of the Holi event where he is enjoying fun songs on stage with Nirhua. In this video, Manoj Tiwari has also made a video with the crowd standing there and has written in the caption, 'Aaj Holi Mumbai ki…


Along with this, Manoj Tiwari has also shared a picture with his daughter, in which his daughter is seen wearing big sunglasses. Nirahua is also seen showing a lovely smile in this Holi photo. More than 10,000 viewers have made this picture viral by pressing the like button. Manoj Tiwari can also be seen singing a song at the Holi party. Manoj Tiwari has celebrated the festival of Holi with great pomp in both Delhi and Mumbai.


read this also: Satish Kaushik Death Funeral Live: Satish Kaushik dies of heart attack in car, postmortem will be done at Deendayal Hospital in Delhi