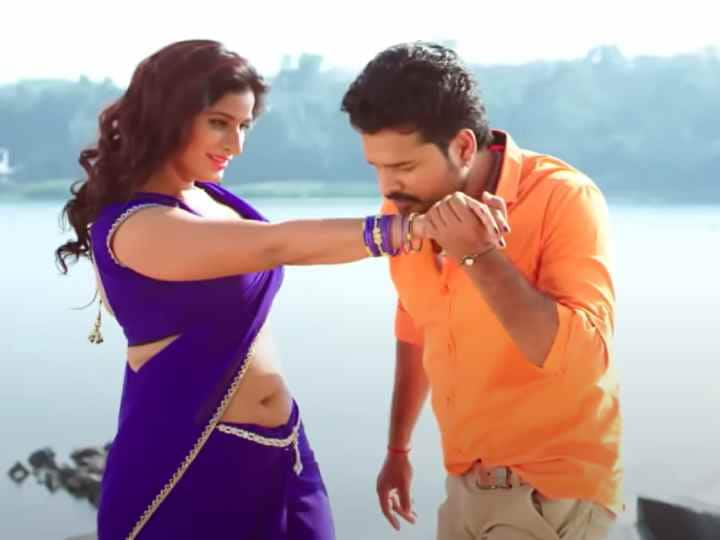 Poonam Dubey And Ritesh Pandey Bhojpuri Song: Bhojpuri actress Poonam Dubey has always been in the limelight due to her bold acts. Any picture of Poonam Dubey spreads like fire as soon as it comes on social media. Recently a new song of Ritesh Pandey and Poonam Dubey has been released. Whose title has been kept 'Pani Mein Jawani'. This song of Ritesh Pandey is creating a lot of panic on social media. Poonam Dubey has tried to woo Ritesh Pandey by wearing a saree in the bitter cold. The shooting location of the song is also very unique. Ritesh Pandey and Poonam Dubey are seen romancing in this video.
Poonam Dubey's bold style is making Ritesh Pandey crazy
Both have shot many bold scenes for this song. You can listen to this song of Ritesh Pandey and Poonam Dubey by visiting Wave Music. Few hours have passed since the release of this song and this song has collected more than 40000 views. This song by Ritesh Pandey Poonam Dubey is from the superhit film Aarrest. The lyrics of this song have been written by Manoj Matlabi. Music of this song is given by Chhote Baba. This song has been directed by Surendra Mishra and Ravi Sinha.
Ritesh Pandey's viral video went viral
Along with Ritesh Pandey, Poonam Dubey has also played the magic of her vocals in this song. Fans are liking the chemistry of Poonam Dubey and Ritesh Pandey. Even before this, the chemistry of Poonam Dubey and Ritesh Pandey has been seen in many other songs. In the last 2 years, there has been a lot of increase in the popularity of Poonam Dubey Ritesh Pandey. Last year, Ritesh Pandey's song 'Hello Kaun' was seen breaking all the records of the music industry by crossing 900 million views.
read this also:-Arbaaz Khan and Malaika Arora came together once again, both reached to drop son Arhaan at the airport, the actress became emotional