Entertainment
Sapna Choudhary Bhojpuri Dance Video On Lehenga Lehak Jaay Going Viral On Internet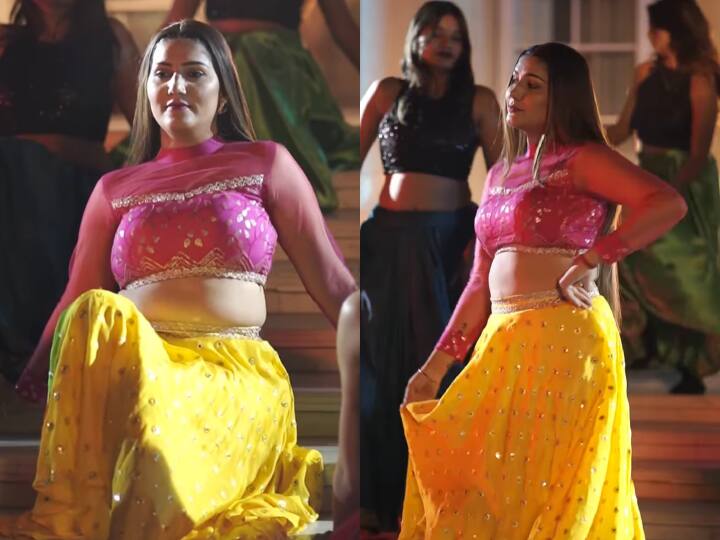 Sapna Choudhary Bhojpuri Dance Video: From the Haryanvi industry to Bollywood, actress Sapna Chowdhary, who has injured people's hearts with her latka-jhatka, is also seen making waves in the Bhojpuri industry these days. Videos of Sapna Chowdhary are becoming very viral on the internet, in which the actress is making people's hearts flutter while dancing to Bhojpuri songs. In the last few years, Sapna Chowdhary has achieved a position which she had not even dreamed of in her childhood. Today, thousands of videos of Sapna Choudhary are seen going viral on social media and the audience also gets immense love on the video. One such video is of Sapna Chowdhary which she shot with Pawan Singh.
Sapna Chowdhary's dance video went viral
The title of Sapna Chowdhary's song has been kept as "Lehnga Lahak Jai". You can see this video has been shared by Viral Bhojpuri on his Instagram account. In this video, Sapna Chowdhary is seen showing her killer dance moves while sitting on the ladder. Sapna Chowdhary is wearing a yellow lehenga with a pink choli in the video. Wearing heavy anklets on her feet, the actress created a lot of noise. Viral Bhojpuri shared this video on his Instagram and wrote in the caption, 'The whole world is crazy about Sapna Chaudhary'.


Sapna Chaudhary's video has been made viral by more than 200000 viewers pressing the like button. Along with Pawan Singh, Shilpi Raj has hummed this song in her melodious voice. This song has created a lot of buzz on YouTube as well. Sapna Chowdhary's Bhojpuri style was liked by the audience so much that she brought this video to the trending list. By the way, this is not the first video which has become so viral on social media. Fans are always seen intact to watch every video of Sapna Chaudhary.
read this also:-Shankar Mahadevan Birthday: From 'Maa' to 'Kajrare-Kajrare', the heat of Shankar Mahadevan's songs is very different