Entertainment
Uorfi Javed Sister Dolly Javed Glamorous Look At Gaurav Gupta Store Launch Event Watch Video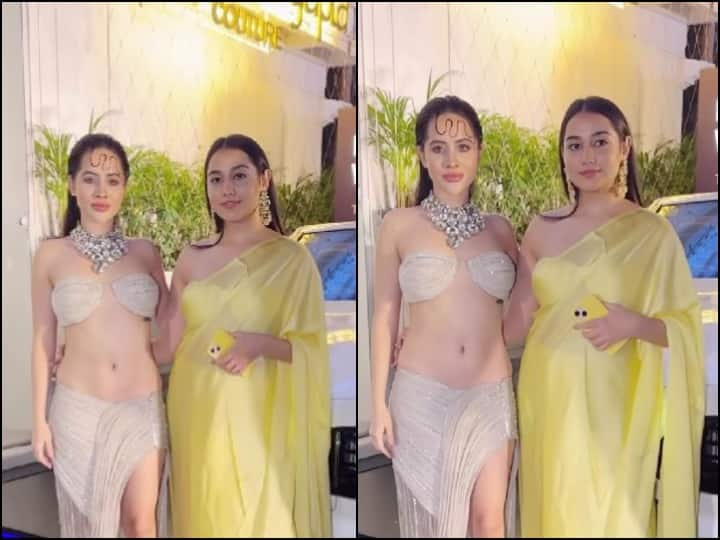 Uorfi Javed Sister Look: Like Urfi Javed, her sisters are also ahead in terms of fashion. Although Urfi's sisters stay away from the limelight, they are active only on social media, but sometimes they attract all the attention by being spotted with Urfi. Recently, Urfi Javed reached the store launch party of fashion designer Gaurav Gupta, where Urfi appeared with her sister Asfi Javed. Even though Urfi chose a unique outfit to grab the attention of the people, but her sister Dolly in a saree stole all the limelight.
Urfi Javed's sister looted the limelight
Urfi Javed's sister Asfi Javed (Uorfi Javed Sister) is looting a lot of accolades with her glamorous style at the launch party of Gaurav Gupta. People are praising Urfi's sister for her beauty and her look. Urfi Javed's sister wore a yellow colored plain silk saree, which she paired with a tube style blouse. To keep the look minimal, Asfi styled it with heels and earrings. Wearing silk open hair and minimal make-up, Asfi was really making the hearts beat.


Urfi Javed's party look
Asfi Javed surprised people with her look, Urfi also adopted a unique look. Urfi was seen in a thigh-high slit skirt paired with a tube top. She styled her look with high heels. The most attention-grabbing of her entire look was her hairstyle, seeing which people even called her 'Kim Kardashian Light'. Urfi Javed looked beautiful in minimal makeup and necklace.
What does Urfi Javed's sister do?
Urfi Javed has three sisters – Asfi, Dolly and Urusa. All three are active on social media and do blogging. Asfi has made her mark through fashion related blogs. One lakh 85 thousand people follow Asfi on Instagram.
Also read- Jasmin Bhasin Wedding: Jasmin Bhasin married someone else except Ali Goni! Fans congratulated after watching the wedding video