India
Election Result: NDPP-BJP alliance's Hekani Jakhlau creates history, becomes first woman to become MLA in Nagaland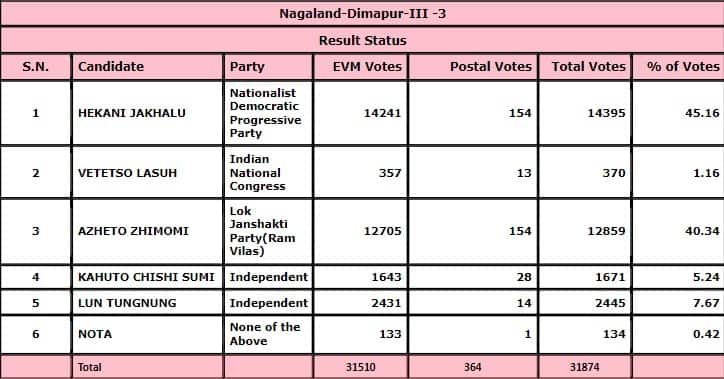 New Delhi: Hekani Jakhlu of the NDPP-BJP combine created history on Thursday (March 2, 2023) when she defeated her rival in the Dimapur III seat and became the first woman to be elected to the Nagaland Legislative Assembly. Jakhalu, candidate of the Nationalist Democratic Progressive Party, Defeated Azeto Zhimomi of Lok Janshakti Party (Ram Vilas) by 1,536 votes.As per the data available on the website of the Election Commission of India.
This time the Nagaland Assembly elections were contested by four women candidates – Hekani Jakhaulu, Salhautuo Kruse, Hukali Sema and Rosie Thompson.
Nagaland Election Results 2023: Hekani Jakhlau of NDPP-BJP alliance gets over 14,000 votes
Hekani Jakhlau of the NDPP-BJP alliance secured over 14,000 votes to create history. While he got 14,395 votes, his rival Zhimomi got 12,859 votes.
According to the Election Commission of India, Jakhlau got 45.16% of the total votes polled in the assembly elections held on 27 February.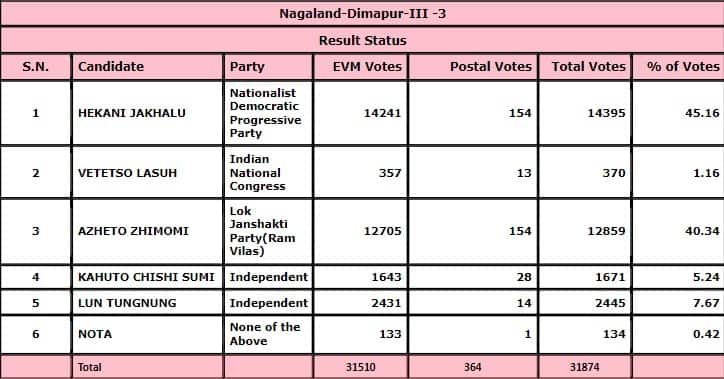 Earlier in 1977, Nagaland had sent a woman as its Lok Sabha representative when Rano Mese Shazia was elected on a United Democratic Party ticket.
After that, it was only last year that a second woman entered Parliament from a northeastern state, with the BJP nominating S Phangnon Konyak as a Rajya Sabha member from Nagaland.
It is noteworthy that Nagaland has one seat each in Lok Sabha and Rajya Sabha, while it has 60 assembly seats.
Meanwhile, NDPP's Salhoutuo Kruse is currently leading in West Angami seat and BJP's Hukali Sema is also leading in Atoizu constituency.
Voting for the Nagaland Assembly was held on February 27 and the counting of votes took place today.