India
Holi 2023: PM Modi greets people as the festival of colors is celebrated with enthusiasm across the country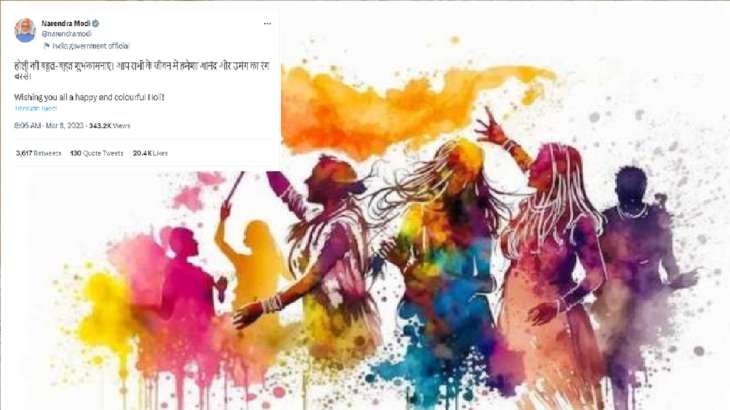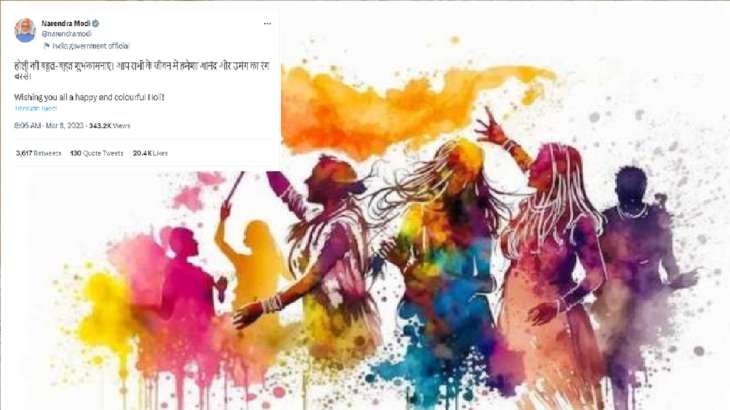 Holi Celebration: Prime Minister Narendra Modi on Wednesday greeted people as people across the country celebrated Holi, the festival of colours.
PM Modi tweeted, "Wishing you all a very Happy Holi! May your life always be filled with colors of happiness and enthusiasm."
The festival of colors was being celebrated across the country. In every village and town, people were seen applying gulal on their faces in groups and colorful water splashes were also seen. Housing societies organize Holi events with music.
Unique Holi in the temples of UP


Twenty quintals of 'Tesu' flowers and 50 quintals of 'Gulal' of different colors are kept at the Dauji temple in Uttar Pradesh's Baldev region to celebrate the unique Holi played by 'Bhabhi' and 'Devar'. brother-in-law.
In the festival, women representing 'sister-in-law' and "brother-in-law" are locally called "huranga". The women beat the men with a wet cotton cloth.
This unique Holi will be played inside the Dauji temple on Thursday.
Lord Krishna used to play this Holi with Revati (Krishna's brother Baldev's wife)," temple priest Govind Pandey told PTI.
"The men drench the women with the color of tesu, while the women try to protect their new clothes from spoiling.
In the spirit of the festival, women also tear men's clothes and use them as whips," he said.
One person in the form of Lord Krishna and the other as his elder brother sit on a high platform in the temple, and watch the festivities as the folk song 'Aaj Biraj Mein Holi Re Rasiya'.
The priest said that before the 'huranga' begins, devotional music is played for an hour before the deity to seek permission to continue the festival.
Twenty quintals of Tesu flowers, 50 quintals of different colored gulal, five quintals of alum, 10 quintals of lime and five quintals of saffron color have been purchased.
Twenty quintals of rose and marigold petals have also been ordered. District Magistrate Pulkit Khare said that all security arrangements have been made for this day.
He said policemen in plain clothes would be deployed to prevent hooliganism and any misbehavior with women.
(with PTI inputs)
Also Read – Happy Holi 2023: Wishes, SMS, HD Images, Wallpapers, WhatsApp and Facebook Status for Loved Ones
latest india news