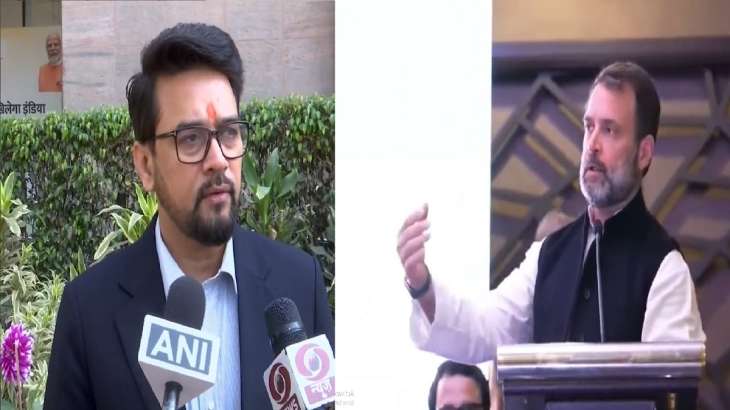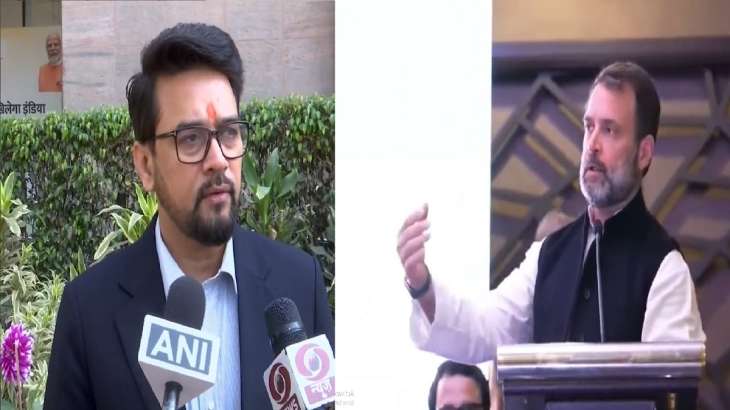 Union minister Anurag Thakur on Monday once again hit out at Congress leader Rahul Gandhi over his remarks in London that the Modi government does not allow any opposition view to be discussed.
He said, "Rahul Gandhi kept making such comments to hide his failures. It seems that he has taken a contract from abroad to defame India. His language, thoughts and working style are questionable. Jawans were martyred, they said, some people died in the car bomb blast..," Thakur said.
Rahul Gandhi unable to accept election defeat: Anurag Thakur


Earlier on Friday, Thakur hit out at Gandhi over his claims of being under surveillance by intelligence agencies and accused him of defaming India on foreign soil after facing successive electoral setbacks.
Thakur wondered what stopped Gandhi and other Congress leaders from submitting their phones to the Supreme Court-appointed technical committee probing the Pegasus snooping case.
Thakur's remarks came after Gandhi claimed in a speech at Cambridge University that Indian democracy was under threat and that many politicians, including himself, were under surveillance using the Israeli spyware Pegasus.
Information and Broadcasting Minister Thakur told reporters here, "We can understand their hatred towards the prime minister, but the conspiracy to defame the country with the help of foreign friends on foreign soil raises questions on the agenda of the Congress."
Thakur said that Gandhi knew about the electoral defeat of the Congress in the assembly polls and had resorted to making allegations from foreign soil.
"The Congress lost the elections once again, but their bankruptcy was evident as they never missed an opportunity to defame India from foreign soil," he said.
Thakur accused Gandhi of lying repeatedly on the issue of Pegasus and said that he was now making allegations from foreign soil with the help of foreign friends and agencies.
"What was Rahul Gandhi's compulsion on Pegasus that he and other leaders did not deposit their mobile phones? What do you want to hide? It has become his habit to defame the country by using foreign soil and foreign friends," he said. , Thakur said Gandhi should have at least heard what Italian Prime Minister Giorgia Meloni said about Prime Minister Narendra Modi. He said that Modi has emerged as a prominent leader. Rahul and the Congress are unable to accept repeated electoral defeats.
Also Read – 'Modi Govt Doesn't Allow Opposition's View to be Discussed': Rahul Gandhi to NRIs in London
latest india news