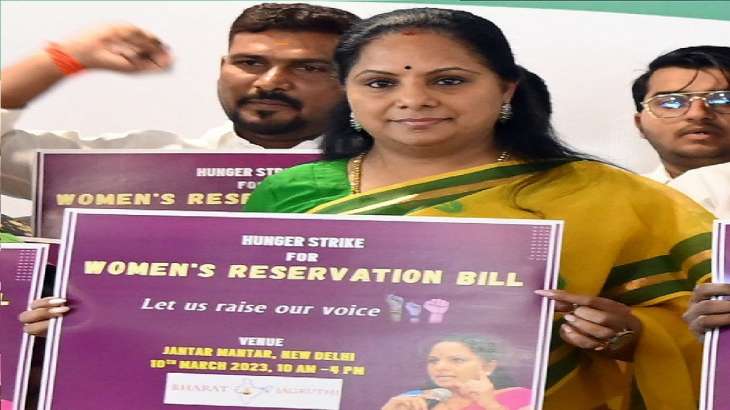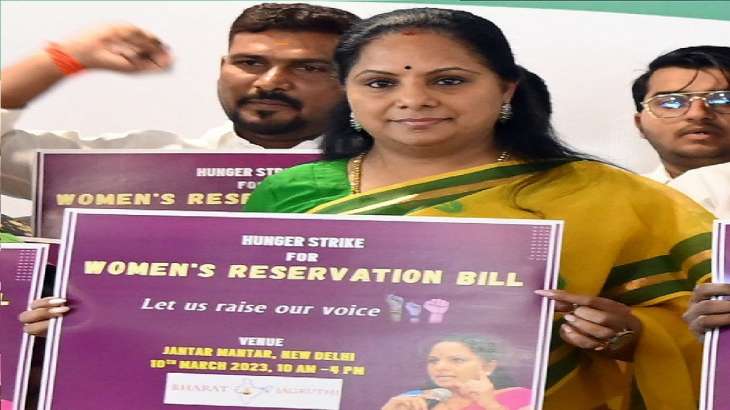 Women's Reservation Bill: The Women's Reservation Bill, after more than a decade, is set to be revived as BRS leader Kavita, with the support of 18 parties, will on Friday go on a hunger strike to press for the passage of the crucial bill.
The bill, which seeks to reserve 33 per cent seats in the Lok Sabha and all state legislatures for women, was introduced in the Rajya Sabha in May 2008 and referred to a standing committee.
In 2010, it was passed in the House and finally transmitted to the Lok Sabha. However, the bill lapsed with the 15th Lok Sabha.
Addressing the media, Kavitha, daughter of Telangana Chief Minister K Chandrasekhar Rao, said the bill has been languishing since 2010 and the Modi government has a historic opportunity to get it passed in Parliament before 2024.
He said the hunger strike would be organized by his NGO Bharat Jagruti and invited all political parties to join it. So far 18 parties including CPI (M) and Shiv Sena have confirmed their participation.
He said, "Around 500-600 members will sit on the hunger strike, but the attendance will be much higher. Over 6,000 people and 18 political parties have confirmed their participation."
CPI (M) leader Sitaram Yechury will inaugurate the program at 10 am. Kavita said Prime Minister Narendra Modi had promised in the 2014 and 2019 Lok Sabha elections that his government would bring this bill and it was also part of the BJP's election manifesto.
Noting that no BJP leader raised the issue and the Modi government despite having a majority, failed to get the bill passed in Parliament, he said, "It is a very sad issue." The world is moving forward only by taking women at par with men. This unfortunately has not happened in India.
She said, "I would like to urge the PM, all political leaders and especially President Draupadi Murmu and request the Government of India that it still has an opportunity as there are two more sessions of the Parliament (before the next election) to pass this Bill).
She said that if the Modi government wants, it can get the Women's Reservation Bill passed just like the Aadhaar Bill, which was passed as a financial bill and Rajya Sabha was bypassed.
Kavita further said that India ranks 148 out of 193 countries in terms of representation of women. There are only 78 women members out of 543 in Parliament, which is 14.4 percent. Unfortunately, it is well below the global average. He said neighboring Pakistan has 17 per cent reservation for women and their representation in Bangladesh is more than in India.
Picket and ED Grill
Telangana Chief Minister K Chandrasekhar Rao's daughter Kavitha, who has been summoned by the Enforcement Directorate in connection with the Delhi Liquor Policy case, accused the Center of diverting the country's attention from real issues by targeting the opposition.
Hitting out at the probe agency, she said that on March 2, she had announced a hunger strike to raise her voice for women's reservation and after that she received ED's summons and it was not a coincidence.
(with PTI inputs)
Read this also – The question is made. KCR is the real target, not me, says Kavita of Telangana CM's daughter. Unique
latest india news