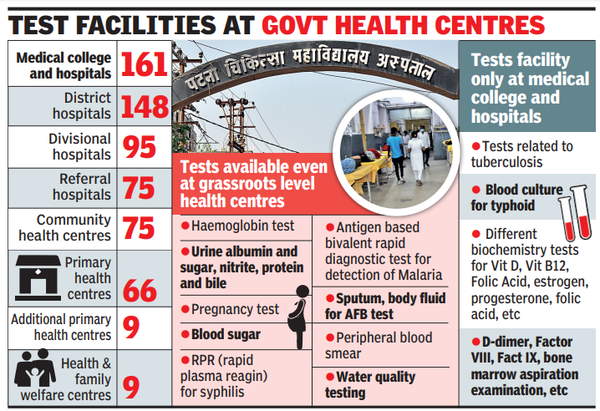 Patna: At least 161 different tests will now be done free of cost in the state's Government Medical College and Hospitals (MCH). health Department Recently released a book named different types of diagnostic testing facilities available in government health centres. While a maximum of 161 tests can be done at MCH, people can avail the facility of 148 different tests at district hospitals. Nine tests will also be conducted at additional primary health centers and health and wellness centers.
The break-up shows that in addition to the maximum number of tests at the MCH, 91 different types of tests can be done at the Divisional Hospital, 75 at the Referral Hospital and Community Health Center and 66 at the Primary Health Center. Two days back Deputy CM… Tejashwi Prasad YadavWho also has the Department of Health, released a book containing the names of tests available in different types of hospitals.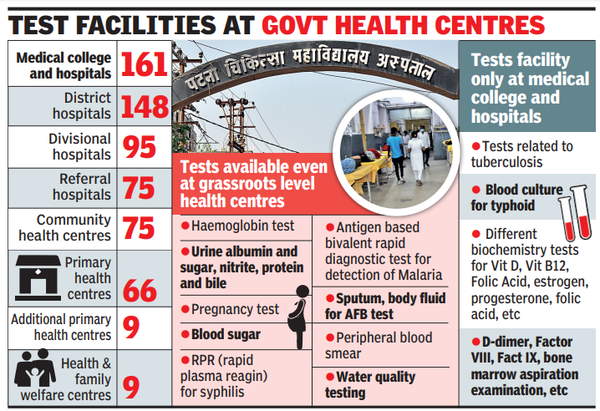 Sources said that while there were already many tests being done free of cost in government hospitals, some have now been added. The department has now come up with a resolution to provide testing facilities as per the list.
Health Department Secretary Sanjay Kumar Singh said that copies of the book would be made available at health centers so that people could get to know about the facilities of free check-up in a particular hospital. Singh said that training of health workers would also be organized. "We are in the process of providing free testing facilities in government hospitals by April," he added.
Another health department official said some tests are not being conducted at government health centers due to lack of equipment, skilled staff and consumables required for testing. For example, there are tests that require kits and once they are consumed, they have to be refilled. "All these things will be sorted out now," the official said.