Patna
Bidding process begins for the proposed 'Heritage Tunnel' project in Bihar. Patna News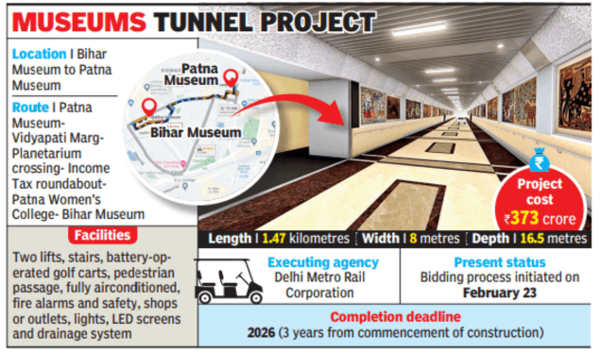 Patna: Anupamheritage tunnel' project, proposal to add old Patna Museum Has moved forward with the new Bihar Museum.
The Delhi Metro Rail Corporation (DMRC), the executing agency for the first of its kind project, has started the bidding process for the construction of the 1.5 km long tunnel, which is expected to be completed within a period of three years.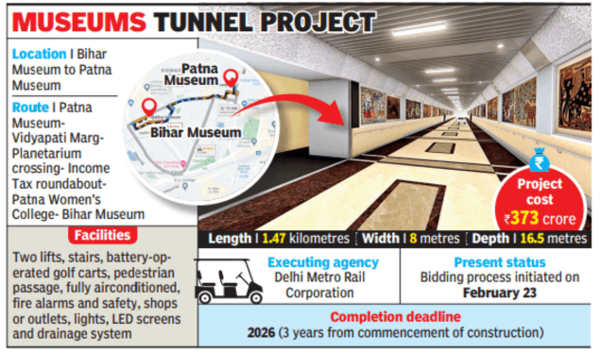 A DMRC official, on condition of anonymity, said, "The tender for the museum tunnel project was issued on February 23 and bids will be accepted till April 5. The construction work will start within a month, depending on the response in the bidding process." Will be done." ,
According to sources, the route of the tunnel will pass through Patna Museum, Vidyapati Marg, Taramandal Chauraha, Income Tax Roundabout, Patna Women's College and Bihar Museum.
The tunnel will be built using the latest technology and will ensure a safe and comfortable journey for the visitors. Battery operated golf carts will be provided to assist in easy and eco-friendly movement of visitors. It will also be equipped with adequate safety measures including fire escape within the fully AC structure.
People will also get a glimpse of the state's culture through artwork including Madhubani paintings on the walls of the proposed tunnel while moving from one museum to another. "To make the tunnel more attractive, its wall will display the art, culture and heritage of Bihar," said a DMRC official.
The tunnel museum project was conceptualized in August, 2019 following the instructions of Chief Minister Nitish Kumar.
DMRC was selected as the executing agency and a Memorandum of Understanding (MoU) was signed between DMRC and the Department of Urban Development and Housing (UDHD) in January this year.