Patna
Municipal body is gearing up to make Patna garbage free by 30th April Patna News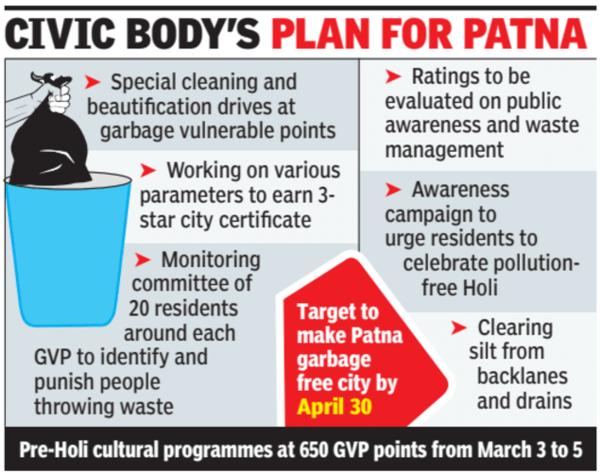 Patna: With the objective of improving the rank of the city in Swachh Survekshan-2023, Patna Municipal Corporation (PMCPreparations have been made to make Patna a garbage free city by 30th April.
According to PMC officials, with the help of state-of-the-art machines, the city will be thoroughly cleaned even during the night. Painting and beautification of public places including Garbage Vulnerable Places (GVPs) will be done. Along with this, the silt deposited in the drains and back streets will be cleaned. During the campaign, the civic body will also address the concerns of the residents.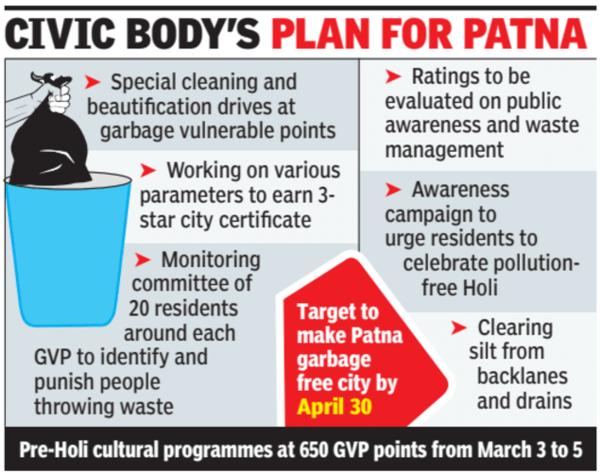 PMC is working hard on various parameters to achieve 3-Star City Certificate this year. Cities have been included in the categories of 1 Star City, 3 Star City, 5 Star City and 7 Star City on the basis of marks obtained under Garbage Free City campaign. If a city scores 3,600 out of 5,200, it will get a rating. The rating is evaluated on the basis of public awareness and waste management.
The PMC is already running an awareness campaign to encourage residents to celebrate pollution-free Holi. The PMC staff will also arrange pre-Holi cultural programs like Geet Sangeet and Holi Milan at 650 GVP from March 3 to March 5, where people will be urged to stop burning objects and save the environment from pollution.
A monitoring committee has been formed by the PMC by selecting 20 residents around each GVP. This committee will try to track down, educate and punish those who litter on GVP.
Meanwhile, residents have praised the PMC initiative, claiming that it will reduce pollution and disease outbreaks and raise the standard of living in the city. "The effort to make Patna a 'garbage-free city' is a sincere step taken by the PMC. Monitoring GVP will help reduce pollution, and cleaning drains will help prevent the spread of diseases," Alia Mallick Bank Road, said a medical student.
"This year, let us support the PMC in its efforts to promote a safe and pollution-free Holi. By not throwing garbage on the road and informing others about what to do, every resident can help Patna achieve the 3 Star City rating. I should try to help." said Divya Kumari, a Class 10 student of St. Joseph's Convent High School.