Sports
Anushka Sharma and Virat Kohli offer prayers at Mahakaleshwar temple in Ujjain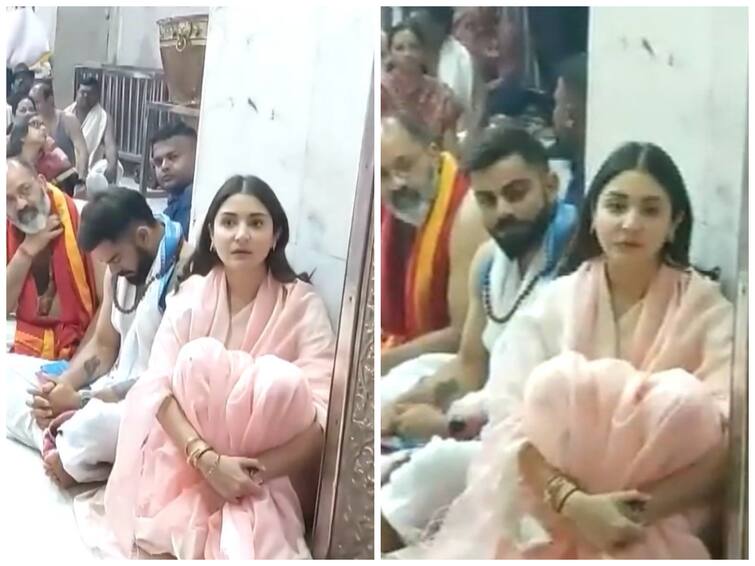 New Delhi: Indian cricketer Virat Kohli and his wife actress Anushka Sharma visited the famous Mahakaleshwar temple in Madhya Pradesh's Ujjain on Saturday morning. A video of the couple offering prayers at the temple along with other worshipers has gone viral online.
During the third Test match against Australia, Kohli traveled to Indore. The match lasted just three days and ended in defeat for India. The temple in Ujjain where Virat went to worship is just two hours away from Indore.
In the viral photos and videos, Anushka can be seen dressed in a light pink suit, while Virat is dressed in a white shirt and trousers. The priest sitting next to him seemed to keep his head down while praying.
Virat Kohli and Anushka Sharma's bow to Mahadev is the best thing on the internet today. Proud Hindu who follows Sanatan Dharma is just beautiful 🧡 pic.twitter.com/zD8pmv5jb0

— Ferry (@ffspari) March 4, 2023
According to ANI, Anushka Sharma said, "We came here to worship and had a good 'darshan' at the Mahakaleshwar temple."
#Watch , Madhya Pradesh: Actress Anushka Sharma and cricketer Virat Kohli visit Mahakaleshwar temple in Ujjain. pic.twitter.com/NKl8etcVGR

– ANI MP/CG/Rajasthan (@ANI_MP_CG_RJ) March 4, 2023
In recent years, Anushka and Virat have become more devout, and they often visit famous Hindu temples to offer their prayers. He has earlier gone to Vrindavan and Uttarakhand to explore the temples. Vamika, the couple's daughter, accompanied them on a trip to Rishikesh and Vrindavan earlier this year. The family visited the ashram of Baba Neem Karoli in Vrindavan and the samadhi of Swami Dayanand Ji Maharaj in Rishikesh.
Virat and Anushka tied the knot on 11 December 2017 at Borgo Finocchio, an 800-year-old village that was renovated and turned into a boutique property. They welcomed their daughter Vamika in 2021. Anushka, who took a break after the birth of Vamika, will now be seen in sports drama 'Chakda Express', in which she will play the role of Indian fast bowler Jhulan Goswami.
Meanwhile, Virat Kohli, one of the greatest batsmen of all time, is struggling to score runs in Tests in his last 20 Test innings.