Sports
Bill Gates shares message after meeting Sachin Tendulkar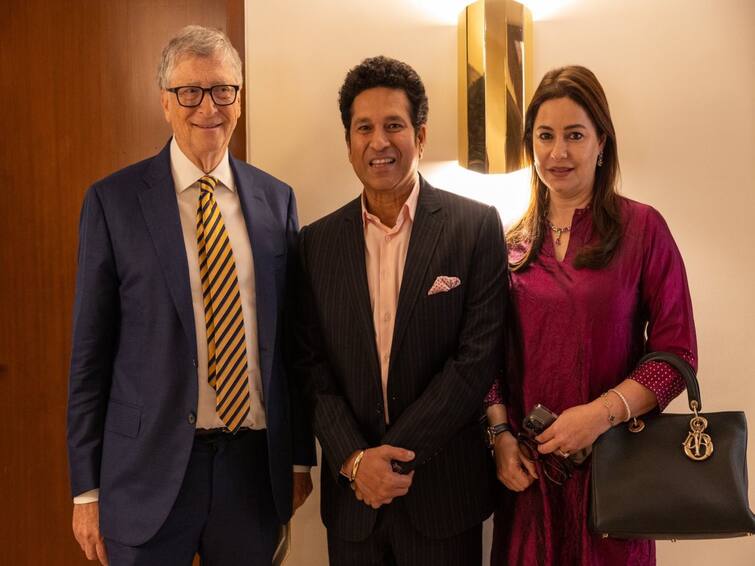 Microsoft co-founder, Bill Gates, who is currently in India, took out time to meet India's cricket legend Sachin Tendulkar in Mumbai on Tuesday. He had earlier met his Harvard classmate Anand Mahindra and RBI Governor Shaktikanta Das during his visit to India. The American business magnate later shared pictures with the cricket legend on social media.
Responding to Tendulkar's tweet, Gates used a cricketing pun in his reply. He said that he was happy to know about Tendulkar's work on children's health in India and hoped that if they work together they can make a century of progress.
"We are all students for life. Today was a wonderful learning opportunity to gain perspective on philanthropy, including the children's healthcare that our Foundation works on. Sharing ideas is one way to solve the world's challenges. Powerful method. Thank you Bill Gates for your insight." Tendulkar tweeted.
Check out the Twitter exchange between the two here:
I had a great time learning more about your work in children's health care. I am optimistic that, working together, we can create a century of progress! https://t.co/JAPnjBQIwk

— Bill Gates (@BillGates) February 28, 2023

On Tuesday, the chairman of Mahindra Group had also shared pictures with Gates. He said the two of them did not discuss IT or business, but how they can work together to increase social impact, which he described as refreshing.
Anand Mahindra also displayed an autographed copy of his copy, the picture of which he shared on the micro-blogging site.
"Nice to see @BillGates again. And, refreshingly, the whole conversation between our teams wasn't about IT or any business, but how we can work together to drive social impact. (Though There was some benefit involved for me; I got a free, autographed copy of his book😊)," he wrote along with the pictures.
good to see @Bill Gates re. And refreshingly, the entire conversation among our teams was not about IT or any business, but how we can work together to drive social impact. (Though there was some benefit involved for me; I got a free, signed copy of his book😊) pic.twitter.com/lZjtnKwmMc

— Anand Mahindra (@anandmahindra) February 28, 2023
RBI governor Das had also termed his meeting with Gates as "excellent", sharing that the two talked about financial inclusion, payment systems, microfinance and digital lending.
Tendulkar comes back, the cricketing superstar has been associated with Mumbai Indians as a team mentor, playing for the same team since he retired from IPL. He has been listed as the "Icon" of the franchise on their official webiste ahead of IPL 2023. The inaugural season of the WPL will begin on March 04, ahead of the IPL starting on March 31.