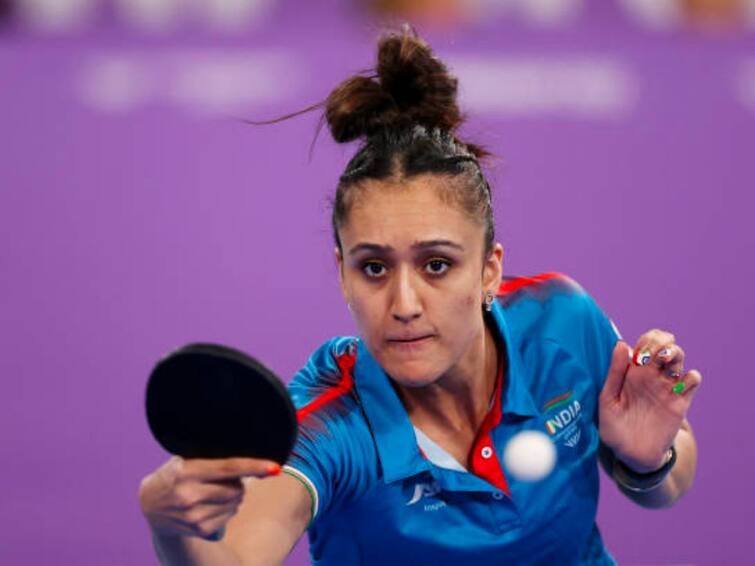 Indian table tennis players Manika Batra and Sutirtha Mukherjee crashed out in the round of 16 in the women's singles event at the WTT Star Contenders Goa 2023 here on Friday, ending the country's campaign. Sutirtha and Manika, the two surviving homegrown hopefuls, met better opponents that day. Sutirtha failed well in her last 16 match against the experience and finesse of Portuguese Fu Yu (Article #19).
The veteran with a pen-hold grip won 3-0 (11-5,11-7,11-5) to advance to the quarters. This was the second time that Sutirtha has lost to Fu. On the other hand, Manika took on China's Qian Tanyi (#20 points reverse) and lost 1-3 (6-11,3-11,11-9,11-7). The Indian fought hard to win a close third game but the Chinese were in clear control of the match from the start.
"I am done with my tournament. I think I just gave my best in this tournament. But winning and losing is a part of every athlete's life. I have learned many things from my game. I just want to work on it." I will and I will do just that." Give your 100%. I will work hard for my next tournament for my country," said Batra after the match.
teenagers shine
Meanwhile, Kishore Shakti was on full display on the fifth day of WTT Star Contender Goa. First, Chinese 17-year-old Lin Shidong defeated Korean Cho Daesong 3-2 (9-11,11-5,11-9,11-5,11-4), then 14-year-old Japanese sensation Miwa Harimoto in two finals and The women's singles reached the quarters before 16-year-old French talent Félix Lebrun defeated Swedish World No. (WR) #4 Truls Moregaard 3-1 (11-7,11-8,7-11, 11-7) to win the Indian WTT for the first time. to confirm Teen Day in the series schedule.
The highlights of the sixth day on Saturday will be the two men's and women's doubles semi-finals and the mixed doubles final, which will be followed by the four finals of the tournament on Sunday.
Five Chinese paddlers in singles quarters
In fact the teenage Lin led a group of five Chinese paddlers in the men's and women's singles quarterfinals. Liang Jungkun (Article No. 7), winner of five international titles besides multiple world championship medals, made it to the last eight with a comfortable 3-0 (8/4/8) result against Hungary's Bence Majros. He will meet compatriot Lin Gaoyuan (No. 12), who beat Swede Christian Carlsen (No. 19) 3-2 (8-11,11-7,9-11,11-6,11-7).
In a battle of two Chinese in women's singles, top seed Wang Yidi (Cat No. 4) defeated Cui Man (Cat No. 26) 3-1(11-9,11-3,10-12,11-3) . Compatriot Qian in last eight
miwa do in finals
The day also belonged to 14-year-old Japanese sensation Miwa Harimoto, the younger sister of men's world number four Tomakazu Harimoto, as she made it to both the mixed and women's doubles finals and also made it to the women's singles quarterfinals. She won her last 16 match in the evening over higher ranked Chen Su-yu of Chinese Taipei in four games (3-1:11-8,10-12,11-5,14-12).
Earlier in the day, he partnered with Shunsuke Togami to enter the final of the mixed doubles, defeating the French pair of Emmanuel Lebesson and Jia Nan Yuan 3–0 (11–9,13–11,11) in three hard-fought matches. -8) was defeated. – Fighting Games. However, Miwa's elder brother Tomokazu, along with world number six Hina Hayata, defeated Koreans Jung Woojin and Jeon Jihee 2-3 (11-6,11-9,8-11,8-11,8-11). Defeated. Brother-sister clash in the final
Miwa was generous enough to give credit to her teammate after the win, "I was nervous at first. But Togami motivated me a lot which allowed me to play my game more easily."
She then made it to the women's doubles final with Miyu Nagasaki, when they defeated the Swedish pair of Linda Bergström and Kristina Kallberg 11–5, 12–10, 11–2. There they meet the Chinese Taipei pair of Cheng-I-Ching and Li Yu-Jhun, who were the semifinal winners 3–2 (9–11,11–4,11–7,6–11,11–7). Koreans Choi Hyoju and Lee Seon.
Togami also in two finals
Miwa's mixed doubles partner, Shunzuke Togami, also made two finals that day. In men's doubles, he teamed up with Yukiya Uday to beat Korea's Jang Woojin and Lim Jonghoon 3-2 (11-5,3-11,11-3,6-11,11-8) in the semi-finals. Togami and Ueda will take on fourth seeds Koreans An Jaehyun and Cho Seungmin, who defeated another Japanese pair Yuto Kizukuri and Cho Seungmin 3-1 (11-7,5-11,11-8,11-6). Mizuki Oikawa.
other winners of the day
Other winners of the day were another popular teen, Japanese 19-year-old world number four Tomokazu Harimoto, who continued his fine form in the tournament by defeating France's Simon Gauzy (article #32) in three straight games. and take his place in the quarters. Men's singles also saw world number eight Lin Yun-Ju of Chinese Taipei and Koreans, Zhang Woojin and An Jaehyun going into the last eight.
In women's singles, world number 10 Ying Han of Germany advanced to the last eight with a comprehensive 3-0 (11-9,11-2,12-10) win over Thai qualifier Suthasini Sawetabut. Meanwhile, world No. 11 Xiaoxin Yang of Monaco was down two games to beat China's Liu Weishan (#22) 3-2 (9-11,9-11,11-8,14-12,11) -7) had to be defeated. Go to the quarters. In addition, Japan's Miyu Hirano (article #24) and Chinese Taipei's Cheng-I-Ching (article #31) also crossed it.
(This report has been published as part of an auto-generated syndicated wire feed. No edits to the title or body have been made by ABP Live.)