Sports
MC Stan performs live at Sania Mirza's farewell watch; Yuvraj Singh present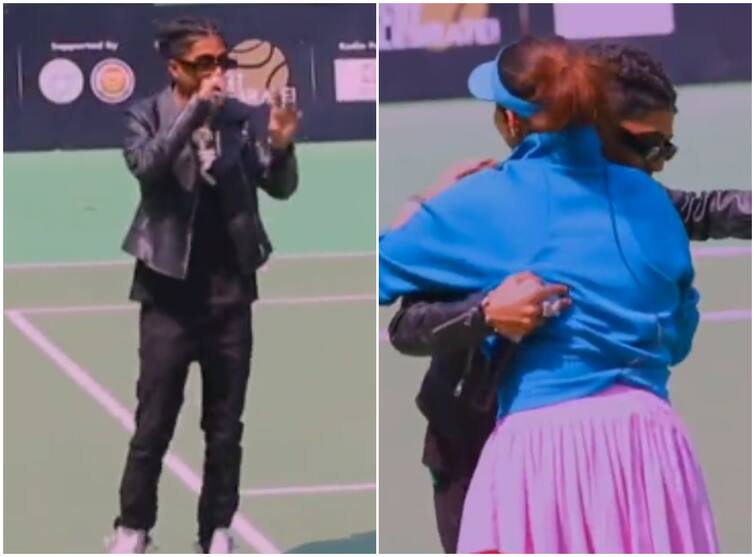 Sania Mirza, arguably the greatest Indian tennis player of all time, brought an end to her illustrious tennis career on Sunday at the Lal Bahadur Stadium in Hyderabad, where it all began for her. It was almost two decades ago when Sania announced her arrival on the world stage with a historic WTA singles title win here in Hyderabad. Since then, Sania's revolutionary journey in sports and as a person has inspired millions of women in India to take up sports as a career. The 36-year-old finally ends her history-defining 20-year-long career with six Grand Slam titles, including three in women's doubles with Swiss legend Martina Hingis.
The final match of Sania Mirza's inspirational career, an exhibition match, in which she played a few friendly matches with Rohan Bopanna, Ivan Dodig, Cara Black, her best friend Bethanie Mattek-Sands and Marion Bartoli. Former India star all-rounder Yuvraj Singh, Law Minister Kiren Rijiju and former India captain Mohammad Azharuddin were among those who turned up to watch the exhibition match in Hyderabad.
MC Steyn celebrated Sania's career with a live performance on the historic occasion in Hyderabad.
Watch video…
@MCStanOfficial Tennis legend visits @MirzaSania Even if he has a concert in Mumbai for the Farewell match in Hyderabad.

Sania Mirza Shining Light of Indian Tennis 🇮🇳(2003-2023)🇮🇳#Sania Mirza X #MCStan pic.twitter.com/I4ucrNZ1dV

– 👑👑👑👑 (@RealDevesh7) March 5, 2023
Minister KT Rama Rao felicitated tennis star Sania Mirza and players who played with her in her farewell exhibition match, Sports Minister Srinivasa Goud and others were present on the occasion.#Hyderabad #Sania Mirza #tennisstar #Telangana pic.twitter.com/3X7vbTOC7Y

– Arbaaz The Great (@ArbaazTheGreat1) March 5, 2023
"I am thankful to everyone for the kind of send off I was given today. I couldn't have asked for a better send off. It all started here in 2002 when I won medals at the National Games. Then in 2004, I Won her maiden WTA title (doubles). As someone said, it has been a one-handed drive for me. Yes, it has been an honor to represent the country at the highest level for 20 years," Sania struggled Said to hold back her tears.
"Believing a little kid playing tennis was difficult for so few people, especially for a girl. But, it was only my parents who believed in me and have been with me through this journey. Yes, I am going to (…pauses for a long moment wiping away tears even as the crowd chants Sania Sania) to miss the game.
"But I can tell you that I will be with the Telangana government and the Telangana State Sports Authority to produce another Sania. In fact, we need more and more Sanias and will definitely work for it. These tears of joy I miss you." You guys," concluded Sania.