Sports
PM Modi, Rohit Sharma, Kohli sing national anthem with Team India, whole stadium joins to watch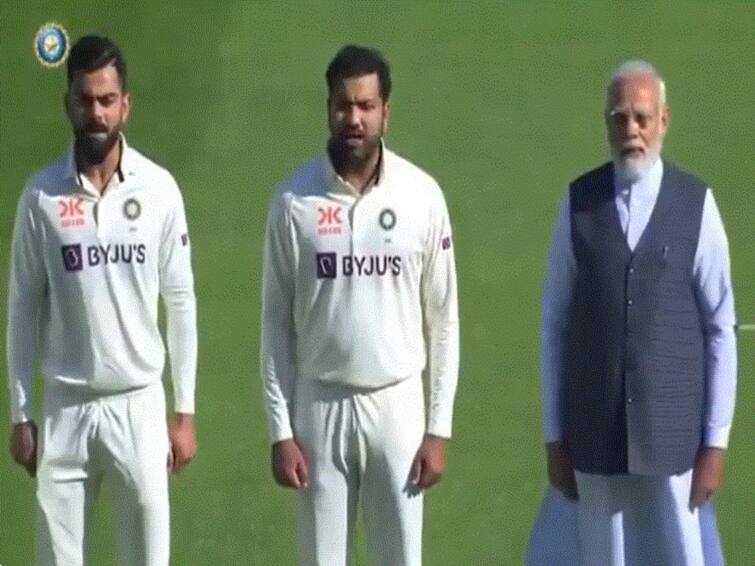 In the fourth and final Test match of the Border-Gavaskar series between India and Australia, some spectacular scenes were seen before the start of the game on Thursday. Indian Prime Minister Narendra Modi and Australian Prime Minister Anthony Albanese, who had come to the venue to watch the first session of the Test match, accompanied the players in singing their respective national anthems.
Both the Prime Ministers also shared special Test caps with the respective captains of their countries and took a lap of honour. But the highlight of the event was that Prime Minister Narendra Modi stood up to sing the national anthem along with Indian captain Rohit Sharma, Virat Kohli and other players of the team.
As PM Modi stood with the players and started singing the national anthem, the fans attending the match in the stadium also started singing creating an enthusiastic atmosphere.
Electrify!

#BorderGavaskarTrophy2023 pic.twitter.com/zy41hbzTWj

— Anurag Thakur (@ianuragthakur) March 9, 2023
PM Modi and PM Anthony were present at the Albanys Stadium to celebrate 75 years of friendship between India and Australia through cricket.
The only thing that proved disappointing was the restriction on the number of people who could watch the Test matches due to the multi-layered security arrangements for the Prime Ministers.
Read also: Jasprit Bumrah underwent back surgery in New Zealand: Report
The two dignitaries took a round of the playing field on a golf cart, which was applauded by thousands of spectators who had turned up to watch the final Test match between India and Australia at the world's largest cricket stadium, reported PTI.
Both the Prime Ministers also visited the 'Hall of Fame Museum' at the Narendra Modi Stadium.
India lead 2-1 in the four-match Border-Gavaskar series. Australian captain Steve Smith won the toss and opted to bat in the final Test.