Sports
Rest of India beat Madhya Pradesh to win the title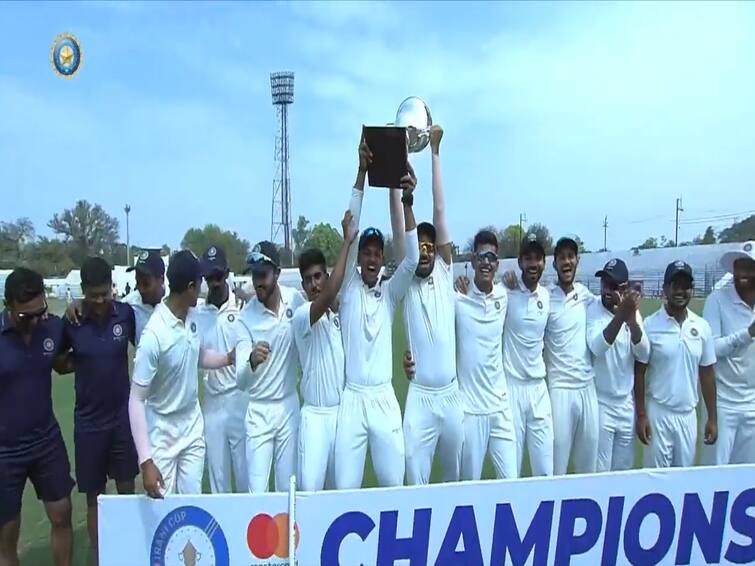 Gwalior: The Rest of India bowling unit performed like a well-oiled machine as the team thrashed Madhya Pradesh by 238 runs to retain the prestigious Irani Cup, here on Sunday.
Chasing an almost impossible 437 to win, MP were bowled out for 198 in 58.4 overs as the match came to an end during the opening session of the fifth day.
With pitches so-called result-oriented and less prepared for the ongoing Border-Gavaskar Trophy, the Gwalior track is reminiscent of the days when there used to be help for every department of the game.
Four centuries were scored in the match, 40 wickets fell and the fast bowlers and spinners had equal authority during the game.
A case in point is MP's second innings where fast bowlers and spinners took five wickets each.
Pacer Mukesh Kumar (2/34), Atit Sheth (2/37) and Navdeep Saini (1/34) tore apart the Madhya Pradesh top-order, while off-spinner Pulkit Narang (2/27) and left-armer Spinner Saurabh Kumar (3/60) took advantage of the deteriorating surface to lift the lower middle-order and the tail.
In the morning, Madhya Pradesh captain Himanshu Mantri (51) received a raw deal from umpire Rohan Pandit, who raised his finger when the batsman had not actually left one behind the stumps.
MP lost wickets at regular intervals as Yash Dubey, who scored a century in the first innings, got a deadly cutter from Mukesh Kumar and was clean bowled in the process.
There was no let up in the intensity of the Rest of India bowlers and MP had nowhere near a chance to match it.
For the ROI team composed mainly of India A players, Yashasvi Jaiswal was the showstopper with 357 runs in two innings (213 and 144).
Jaiswal said after the match, "If I had not been out (on the first day), I would have scored 300 and that would have been better."
He praised opener Abhimanyu Easwaran (154), with whom he shared more than a triple hundred stand.
"I had an experienced partner in Easwaran and it was wonderful to bat with him," the southpaw said at the post-match presentation ceremony.
Another good news was that Navdeep Saini bowled 29 overs in two innings at a brisk pace.
Easwaran also showed why he is highly rated among the next generation of openers. The only aspect that people criticize him for is his inability to play the pressure game for Bengal.
Bengal have played eight knockout games (quarter-finals, semi-finals and final) in three seasons of the red ball, but the Team India contender hasn't made a mark in the matches that mattered.
(This report has been published as part of an auto-generated syndicated wire feed. Except for the headline, no edits have been made to the copy by ABP Live.)