Sports
Women's Day 2023: What Causes Postpartum Depression, Experts List Out Ways To Tackle The Condition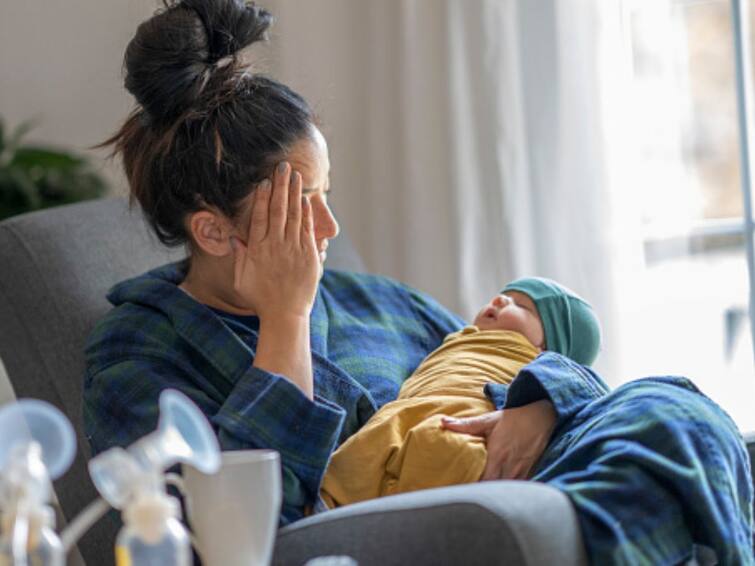 Women's Day 2023: While the birth of a child brings immense happiness to the parents of the baby, it also excites other emotions like fear and anxiety. Childbirth not only affects the physical health of the mother, but can also hamper her mental health and lead to depression.
A severe, long-lasting form of depression that occurs in new mothers after giving birth is called postpartum depression. According to the Mayo Clinic, this is different from the "baby blues," which usually begins within the first two to three days after delivery and can last up to two weeks, and includes mood swings, anxiety, crying and difficulty sleeping. Is.
Sometimes women may start experiencing depression during pregnancy and it continues after childbirth. This condition is called peripartum depression.
causes of postpartum depression
Postpartum depression can be a complication of giving birth. While there is no single cause of postpartum depression, genetics, physical changes such as a dramatic drop in hormonal levels, and emotional issues may be responsible for the condition.
"Postpartum depression is thought to be associated with major hormonal fluctuations that affect mood, responsibility for caring for the newborn, propensity for mood and anxiety disorders, pregnancy and birth complications, breastfeeding problems, infant complications or special needs, and poor social support," Dr. Manju Wali, Senior Consultant – Obstetrics & Gynaecology, Max Super Specialty Hospital, Patparganj tells ABP Live.
A new mother may face many difficulties in dealing with the changes in her body, and this may lead to postpartum depression.
Read this also | Women's Day 2023: Future birth control to be less invasive, 'night-before pill' may hold promise, say experts
"Sudden changes in life, both physical and hormonal changes accompanying the entry into motherhood, difficulty in coping with the changes and lack of support lead to postpartum depression. A good support system helps in dealing with it along with medical help." Dr. Mithi Bhanot, Senior Consultant – Obstetrics & Gynaecology, Apollo 24/7, and Apollo Hospital, Sector-26, Noida tells ABP Live.
Postpartum depression is caused by large fluctuations in the levels of hormones such as progesterone and estrogen.
Progesterone and estrogen levels increase tenfold during pregnancy but decrease rapidly after delivery. Three days after delivery, the levels of these hormones return to pre-pregnancy values. The social and psychological changes that result from childbirth increase the likelihood of developing postpartum depression. A doctor can help a new mother find effective therapy for her. Finding a listener and supporter to talk to, such as a therapist, friend, family member, or someone else. Dr. Rashmi Balyan, Consultant – Obstetrics & Gynaecology, Primus Super Specialty Hospital tells ABP Live.
Childbirth can result in a sudden drop not only in estrogen and progesterone levels, but also in thyroid hormone levels.
"Postpartum depression is mainly caused by a sudden drop in the hormones estrogen and progesterone. Sometimes there is a drop in thyroid hormone levels as well. Dr. Indrani Salunkhe, Gynaecologist, Wockhardt Hospital, Mumbai Central tells ABP Live.
How can women fight postpartum depression?
Various ways to deal with postpartum depression include taking advanced steps during pregnancy, being mentally prepared for the possibility of postpartum depression, getting enough rest after delivery, hiring a postpartum doula, maintaining a proper diet, Including exercising and making yourself a priority.
A doula is a person who is not medically trained, but can provide advice, information, emotional support, and physical comfort to a mother during pregnancy, childbirth, and after childbirth.
Read this also | Women's Day 2023: Experts say sexual health is much more than the absence of disease or dysfunction
,Women can combat postpartum depression by taking advanced steps to plan for their physical postpartum care during pregnancy. Beyond that, they can be real with their feelings, make themselves priorities, hire a postpartum doula, and get enough rest. Women can also seek medical counseling to deal with postpartum depression. Dr. Ekta Bajaj, Senior Consultant & Head – Obstetrics & Gynaecology, Ujala Cygnus Group of Hospitals tells ABP Live.
After childbirth, a woman should avoid stress, and it is her family's responsibility to make sure she feels comfortable.
"Proper diet, regular exercise, and reducing stress can help women cope with postpartum depression," says Dr. Salunkhe.
According to Dr. Wali, women should avoid making major life changes during or just after childbirth.
"Women can combat postpartum depression through exercise, not making major life changes during or just after childbirth, sleeping and eating properly, educating themselves and staying in the delivery room," says Dr. Valli. Tell me your feelings."
Message from female doctors on Women's Day
It is important for women to give utmost importance to their health and accept themselves as they are. Talking to ABP Live, experts have encouraged women to love themselves and speak up against gender discrimination.
Dr. Salunkhe says, "As an important influencer of the society, I would like to ask women to prioritize their health and love and care for themselves."
"You are perfect just the way you are! A healthy woman leads to a healthy family and a healthy society," says Dr Bhanot.
"Women's Day is an occasion to honor those who have lost their life or liberty in the process, along with gender discrimination and inequality in legal, civil and human rights. It serves as a reminder that we need to step up and mobilize our efforts to support the empowerment of women at all levels of society and in all sectors."
"Women's Day is a worldwide celebration of the spirit of womanhood and an acknowledgment of the contribution they make to society every day. My message on this day is to encourage women to take care of their mental and physical health and empower themselves with knowledge to maintain work-life balance," says Dr. Bajaj.
Dr Wali says, "Women's Day is an opportunity to remember that gender equality is a human rights issue."
Check out the fitness equipment below-
Calculate your Body Mass Index (BMI)
Calculate Age Through Age Calculator